Developing a Successful Partnership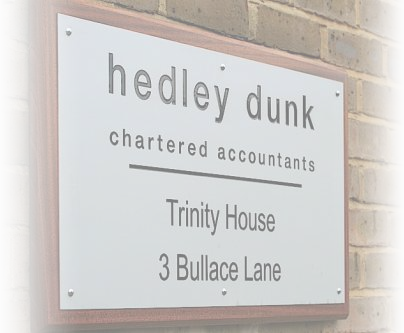 At Hedley Dunk, we believe that we should be in business with our clients, developing a partnership, which will ensure our clients fulfill their objectives. We have vision and business intelligence which along with working closely with our clients generates a creative environment to ensure maximising development and growth. Your business is unique. Whether a newly started or an established business it deserves individually tailored partnerships to help exploit new opportunities and to expand.
Latest Newsletter
Featuring
Employee Benefits

VAT: BREXIT Realities

Making Tax Digital Facts & Fiction
Tax Rates 2019-2020
Here are the tax rates for the new tax year 6th April 2019 to 5th April 2020
2018 Budget Summary
This Summary covers the key tax changes announced in the Chancellor's speech and includes tables of the main rates and allowances
Audits & Accounts
Our experts provide comprehensive advice and support throughout the process of preparing accounts and completing audits.
Tax & Planning
Practical advice and planning to arrange your tax affairs to best advantage, while keeping within the law.
Outsourcing
We can help with your payroll, bookkeeping, secretarial work, company formation or other tasks so you can conentrate on your business.
Probate
We are licensed practitioners for probate related work and specialists in all aspects of taxation, accounts preparation and estate planning.
We have been clients of Hedley Dunk for many years now and have built up a good relationship with them. They provide us with a reliable service, ensuring our tax deadlines are met, our payroll runs smoothly and always have solutions ready when we have the odd problem. In addition to being knowledgeable and efficient, they're a really friendly bunch.

Lisa Settle, Director at Telcare Limited

Are you ready for Making Tax Digital? Please contact us for further information.

Making Tax Digital

It's not due until 31st January 2020 but why not let us help you file your tax return now? We can confirm any tax due in July 2019 and January 2020 to you in advance.

2018/2019 Tax Return deadline